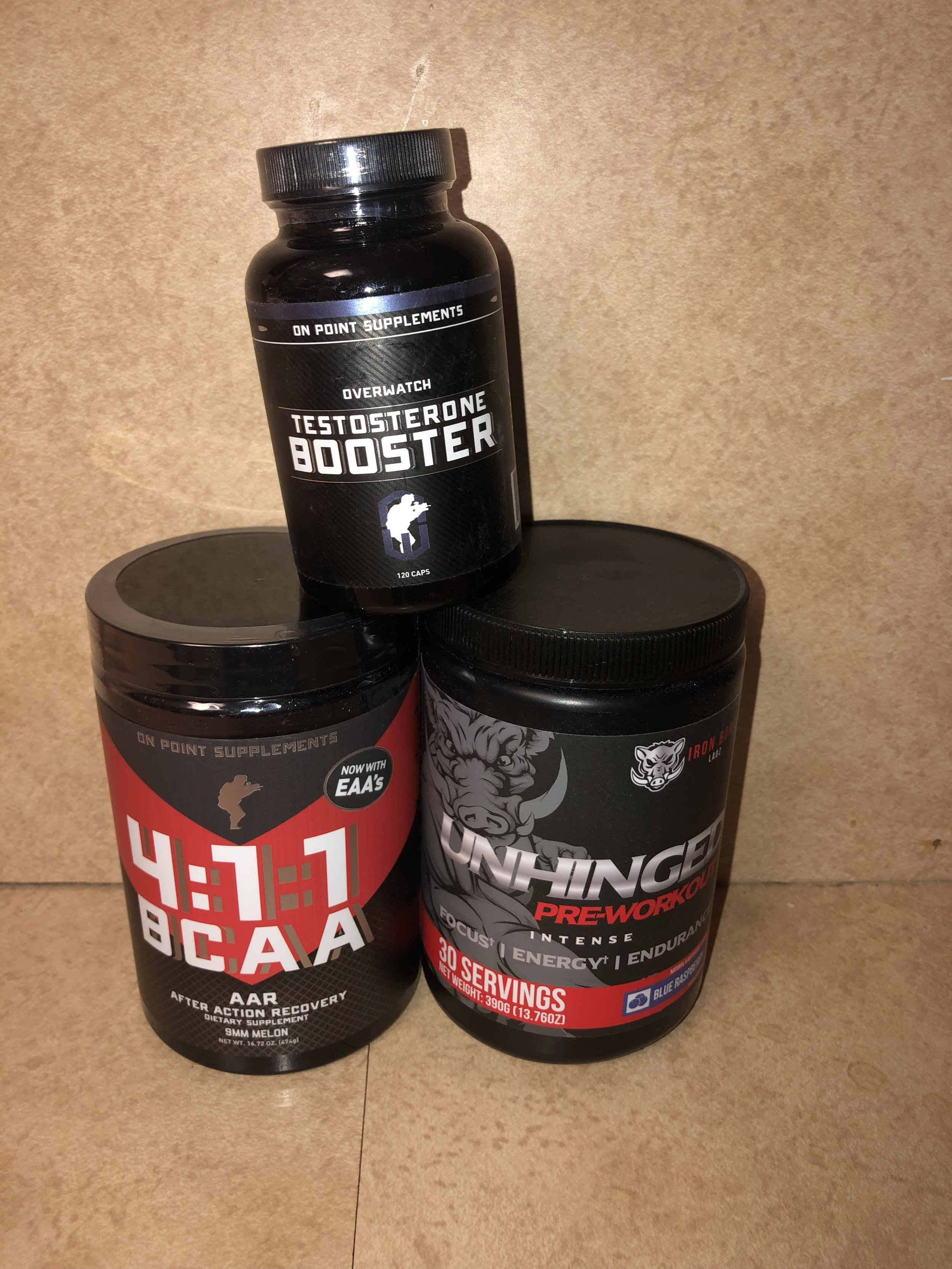 Power Stack
OVERWATCH, NATURAL TESTOSTERONE BOOSTER
This dynamic product is multifunctional and can be used as a natural testosterone booster which will help increase your lean muscle mass, elevate energy levels and boost your libido. Alternatively, OW can be used as a post-cycle therapy treatment, allowing you to maintain cycle gains by reigniting your bodies natural production of testosterone.
30 day supply, 4 capsules per day.
AFTER ACTION RECOVERY, 4:1:1 BCAA
(FLAVOR: 9MM MELON)
The most well-rounded BCAA on the market. Highly concentrated to infuse your muscles with a superior blend of the finest amino acids in a 4:1:1 ration. Combined with glutamine, dehydrated coconut water powder, and vitamins to supply your physique with the essentials needed to repair and support you through and after your workout.
Unhinged pre work out
Ingredients
Citrulline Malate 1:1 (4g) stimulates nitric oxide production and subsequently enhances blood flow, vasodilation, and oxygen/nutrient transport, culminating in skin-tearing pumps! Citrulline Malate is superior to L-Arginine for enhancing NO production and also serves as an incredibly effective performance and endurance maximizer.

Beta Alanine (2.5g) enhances stamina and reduces fatigue by improving a muscle's ability to remove lactic acid. Numerous studies have shown that beta alanine is a valuable ergogenic that increases time to exhaustion, exercise capacity, and athletic performance.

Agmatine Sulfate (1g) promotes dense, long-lasting pumps and NO production by inhibiting the enzyme that breaks down arginine in the body (arginase). Agmatine works in conjunction with Citrulline Malate to provide a constant and powerful surge in nitric oxide all workout long.

L-Tyrosine (1g) increases production of several highly important neurotransmitters (dopamine, epinephrine, norepinephrine) that enhance greater focus and alertness while training while at the same time reducing stress, which can induce premature fatigue.

Dimethylaminoethanol (750mg) boosts brain power, improves memory, and heightens focus by increasing production of acetylcholine, "the learning neurotransmitter." Greater concentrations of acetylcholine bring about "tunnel-vision" focus and a superior mind-muscle connection during intense exercise.

Phenylethylamine (250mg) acts as a central nervous system stimulant that increases levels of many of the "happy hormones", such as dopamine and serotonin. Phenylethylamine (PEA) crosses the blood-brain barrier where it exerts a strong, and rapid, spike in mood and overall well-being.

Caffeine Anhydrous (350mg) provides the immediate kick in the ass you need to get in the gym and get to work! Caffeine anhydrous is fast-absorbing and highly-stimulating resulting in demonstrably greater energy, focus, and motivation.

Higenamine HCL (75mg) activates the "fight or flight" by increasing production of noradrenaline (norepinephrine). Higenamine enhances fat burning during a workout and adds that "little something extra" that missing from all other pre workouts.

Huperzine A (300mcg) increases acetylcholine production indirectly by inhibiting acetylcholinesterase, the enzyme that breaks down acetylcholine. Huperzine works together with DMAE to promote long-lasting focus, concentration, and alertness during training.